May 13, 2020
Publication
Construction Issues and Opportunities During the COVID-19 Pandemic and Beyond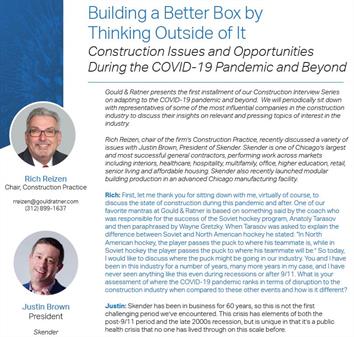 Construction Issues and Opportunities During the COVID-19 Pandemic and Beyond
Gould & Ratner presents the first installment of our Construction Interview Series on adapting to the COVID-19 pandemic and beyond. We will periodically sit down with representatives of some of the most influential companies in the construction industry to discuss their insights on relevant and pressing topics of interest in the industry.
Rich Reizen, chair of the firm's Construction Practice, recently discussed a variety of issues with Justin Brown, President of Skender. Skender is one of Chicago's largest and most successful general contractors, performing work across markets including interiors, healthcare, hospitality, multifamily, office, higher education, retail, senior living and affordable housing. Skender also recently launched modular building production in an advanced Chicago manufacturing facility.
To view the interview in its entirety please visit here.