May 27, 2020
Publication
Implications of the COVID-19 Pandemic on the Engineering and Construction Industry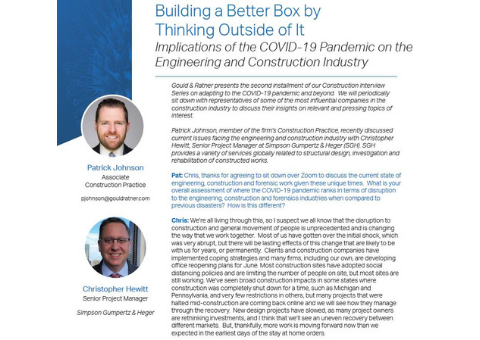 Implications of the COVID-19 Pandemic on the Engineering and Construction Industry
Gould & Ratner presents the second installment of our Construction Interview Series on adapting to the COVID-19 pandemic and beyond. We will periodically sit down with representatives of some of the most influential companies in the construction industry to discuss their insights on relevant and pressing topics of interest.
Patrick Johnson, member of the firm's Construction Practice, recently discussed current issues facing the engineering and construction industry with Christopher Hewitt, Senior Project Manager at Simpson Gumpertz & Heger (SGH). SGH provides a variety of services globally related to structural design, investigation and rehabilitation of constructed works.
To view the interview in its entirety please visit here.